On Illinois Route 1, a 25-year-old Fredonia, Kentucky man lost his life after his motor vehicle collided with a semi-truck on November 21. The man was driving his vehicle on the northbound side of the highway when the accident took place.
According to police reports, the man's vehicle abruptly crossed over the median and ventured into southbound traffic around 8:30 a.m. that morning. The car then made head-on contact with a southbound semi-truck. The semi-truck was being driven by a 50-year-old Illinois man. The impact of the semi-truck accident caused the driver of the passenger vehicle to lose his life at the scene.
Several different authorities were on-site to assess the damage of the accident, and to investigate the potential causes for the fatal collision. The driver of the semi-truck was not injured in the accident. Police are still looking into the crash, and at this time the cause of the truck accident has not been determined.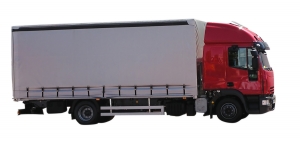 Truck accidents are oftentimes fatal due to the immense size of these commercial vehicles. Semi-trucks tend to overpower other vehicles on the road, therefore an accident involving a passenger car and a semi-truck would more than likely favor the semi-truck in regards to damages and injuries. It is important to stay alert when you are driving near a large commercial truck in order to avoid serious injuries.