Last Wednesday, a fatal accident on Interstate 71 in Louisville left one person dead and another person with serious injuries. The accident unfolded on the northbound side of the interstate, and occurred around 6:00 a.m. in the morning.
Reports by Louisville Metro Police show that the driver of a AAA Kentucky vehicle allegedly lost control and ran into a cable barrier on the interstate. The Rescue Ranger overturned after striking the barrier, and was then hit by a pick-up truck as a result. Paramedics arrived at the scene of the rollover accident, and declared that the Rescue Ranger driver died in the collision.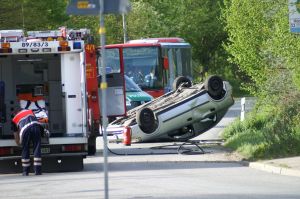 The driver of the pick-up truck sustained serious injuries in the accident, but none of them were deemed to be life-threatening. The collision caused several traffic delays for travelers attempting to exit downtown Louisville. Drivers on the northbound side of Interstate 71 were diverted off of the highway, and onto the service road. Louisville police officers were further investigating the incident.
Rollover accidents can be extremely dangerous, and can result in fatalities. If you have been injured in a car accident, you need experienced representation on your side to obtain the compensation that you are rightfully owed. Please contact the car accident lawyers of the Sampson Law Firm by calling 502-584-5050 today.